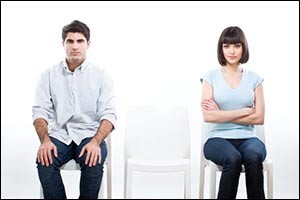 You might think it's crazy to consider working with marriage counseling therapists before you even walk down the aisle, but due to increasing divorce rates and modern complications in relationships, experts now highly recommend couples therapy and workshops, even for the most committed couples. Southeastern Massachusetts couples counseling should come from licensed, experienced therapists in the South Coast area who can help you with premarital counseling for best results.
A recent article published in Psychology Today revealed that there are actually lower divorce rates for couples who receive South Coast marriage counseling before they get married, than couples who do not receive any premarital counseling. In addition to the studies referred to by Psychology Today, there are many other reasons why couples should choose to work with marriage counseling therapists that will give them advantages as they move forward in their relationships and life with each other.
Dealing with Issues
While your love for each other may be true, sometimes it is minor issues that eventually snowball into larger problems that cause the most stress on a relationship. Southeastern Massachusetts couples counseling can help couples discuss the issues that are frequently "deal breakers" in a marriage or committed relationship and address them before they become a problem. Working with a licensed therapist through couples therapy and workshops designed to tackle these issues head on can help couples come to an agreement on how they feel about things before they just pop up one day in an argument. Creating a plan of action, or discovering how your partner feels about certain issues, can help you work through potential problems in the future.
No Relationship is Perfect
Even if you think that you and your partner are on the same page with every single issue that is important to your life together, a session with South Coast marriage counseling experts may help you reveal an unknown problem that could have led to a break-up. The point is, it doesn't matter how perfect your relationship seems or how in line you think that you are with one another, you can always make it better. There is no marriage or other type of relationship that will ever be completely problem-free, but marriage counseling therapists give you the tools to work through issues before they get blown out of proportion and lead to divorce.
Learning to Communicate
One of the biggest stumbling blocks in any relationship, is learning how to communicate effectively. We see this in the workplace, in relationships with family members and, of course, in marriages. When people stop communicating or don't know how to communicate effectively to get their point across, misunderstandings happen, bad feelings happen, and people begin to drift away from one another. Couples therapy and workshops can be used to address communication issues by giving working examples of potential situations that can come between a couple. Therapy through licensed Southeastern Massachusetts couples counseling programs can help couples to learn how to express themselves and listen to their partners in a way that will strengthen and deepen their relationship.
Financial Discussions
They say that money is the root of all evil, and this truth becomes abundantly clear when it comes down to arguments that can ruin a marriage. Whether the problems are due to debt that was brought into the relationship, debt that was incurred through the wedding or bad spending habits that need to be taken under control, financial fights can be devastating to a marriage. Working with your South Coast marriage counseling expert to discuss this touchy, yet important issue, can help couples overcome financial pitfalls before their wedding day. Even small things like opening a joint checking account, deciding who will pay the bills and who will reconcile the bank statements, or who decides how much goes into savings or retirement, can cause a huge blow-out if they aren't discussed ahead of time.
Preventing Divorce
When asked why they chose premarital counseling with licensed marriage counseling therapists, most couples will state that it was because they wanted to prevent divorce. Nobody wants to think about such an awful thing while planning the biggest day of their lives, but if you don't plan for a potential disaster, there's no way that you will survive it. Studies show that couples who participate in couples therapy and workshops prior to marriage are as much as 30 percent less likely to divorce than couples who don't seek assistance and support. Statistics data reveals that approximately 50 percent of all marriages today end in divorce, so attending Southeastern Massachusetts couples counseling can potentially reduce your actual rate to around 20 percent, giving you the tools you need to work through minor issues and potential problems before they get out of hand.
Contact Palmaccio Therapy for Premarital Counseling
If you are interested in learning more about South Coast marriage counseling for couples contemplating marriage, contact Palmaccio Therapy by calling 617-866-0589. We have two locations in the South Coast area to serve you, one in Attleboro, Massachusetts and the other in Barrington, Rhode Island. Lauren Palmaccio is a Licensed Psychotherapist who specializes in premarital counseling, couples therapy and workshops and marriage counseling. Give us a call to set up an appointment or to find out how marriage counseling therapists can help you and your partner to improve your relationship.